Dog Held By Scruff
Of course their title is held by neck but it was just the scruff to control the dog when it freaked out. I see animal control do that on video quite regularly.
https://www.dailymail.co.uk/news/articl ... dRp1C8jGWw
The clip was posted to Facebook yesterday by Sarah Lee, from Birkenhead, Merseyside, who wrote : 'This is Sophie Larkin. She is opening her own shop on Hoylake Road, Bidston.'
So was posted as a vendetta against her for leaving the shop to create competition? Was wondering why the shops own security footage got out.
My fennec fox site: http://tiny-foxes.com
My anteater site: http://www.livingwithanteaters.com
YouTube: https://www.youtube.com/user/TamanduaGirl
Topic starter
Posted : February 13, 2019 11:42 pm
The Daily Fail strikes again. I don't take anything they publish seriously.
Grabbing most mammals by the scruff is fine. That's where their mother would pick them up and simply holding their scruff isn't going to hurt them. It's when you pick an adult dog up off the ground by the scruff that can be painful, because they weigh much more and they are no longer babies. Sometimes it can become necessary though, in my opinion. I have had to grab my cat and pick her up into my arms quickly that way a few times. There's not really a better way to quickly take hold of a cat when they are struggling, panicking, or in danger.
I've done it a few times as a dog groomer as well. If the dog was freaking out, biting, or having some kind of medical episode I can understand why a groomer would pick the dog up that way. It's not like she was strangling it, striking it or otherwise trying to purposefully harm the dog. It looks like the dog tried to jump out of her grasp and she grabbed the scruff. You can see the dog tries to wiggle free every time she attempts to wrap her arm/hand around him for support.
She could have been more gentle, but it's a small wet dog trying to escape, you're trying to do your job in a timely manner, what are you going to do?
And yes, I believe this was published as a slight against her because she is leaving. A grooming salon would never publish a possibly bad PR video for no reason... Makes people think that people who work there are bad and therefore your salon is bad. When those incidents of dogs dying in grooming salons at PetSmart came to the public, people automatically assumed that could happen at any PetSmart salon, which is not true (they definitely broke protocol).
People freaked out when the President of Turkmenistan gave Putin a puppy, and he held the puppy by its scruff for the press to see. The puppy was not in any pain or distress, you can see in the video that it isn't scared or hurt. It's how they pick up puppies and there's nothing wrong with it. I know Putin isn't a popular figure, but you can't deny that he loves his dogs.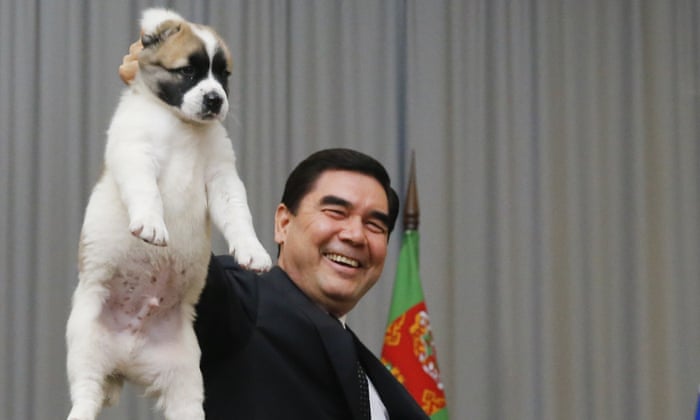 Pet parent of Emo the border collie mix and Namira the domestic shorthair cat
Posted : February 14, 2019 9:18 am
Oh brother. This is ridiculous. I scruff the foxes all the time if I need to catch them for something! Like for vet visitations, getting them in and out of crates, moving them from one enclosure to the other. Guess I'm a cruel animal abuser too except apparently my vet had no problems with how I handled my foxes during their exams.
Really though, that dog is fine and little enough to be perfectly okay. This was just the salon trying to get back at her for starting her own business. Not cool.
I'm Fable and Ifrit's mommy. Also mommy to Carousel, Breeze, and a bunch of snakes, lizards, and spiders. Oh, and one amphibian!
Posted : February 20, 2019 4:08 pm
Thank you both for replying. Glad you agree. It was obviously necessary to get control of the dog.
@Juska
It's even sillier to get upset about the puppy. Not only do mom's pick them up that way but their bodies release calming hormones picked up by the scruff, which is why they generally hang limp rather than fight when you do it. I actually use that fact by massaging and pulling my dog's scruff a bit when scared or upset, though not actual picking up in that case. It's not as effective on adults but it does help some.
My fennec fox site: http://tiny-foxes.com
My anteater site: http://www.livingwithanteaters.com
YouTube: https://www.youtube.com/user/TamanduaGirl
Topic starter
Posted : February 20, 2019 10:14 pm
Yeah the puppy thing is totally overreacting. I don't think the girl in the video meant the dog any harm at all. Sometimes you need to grab an animal. Grabbing it by the tail or leg might result in injury if the animal struggles. The neck is a strong and well-muscled body part, especially on a dog, and the scruff is "made" for holding.
Pet parent of Emo the border collie mix and Namira the domestic shorthair cat
Posted : February 21, 2019 9:20 am